ACE in South Dakota!
ACE Faculty Michelle Anderson and Steve Wirth presented at the South Dakota Ambulance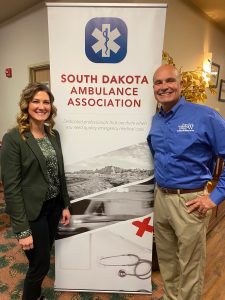 Association's annual conference on February 12, 2022.
There are about 125 ambulance services in South Dakota, many are small, rural, and mostly
volunteer. One volunteer ambulance service attending the ACE Cost Collection Workshop runs 6 calls per year on average!
The participation of small, rural services like those in South Dakota, many of which run less than 100 calls per year, is critical. The cost of operation, the cost per transport, is so much higher in these rural and super rural areas than compared to more urban areas with higher call volume. If small,
rural services do not participate in the cost collection survey or do not have the tools to provide accurate data, the outcome will be skewed data that does not accurately represent the actual costs of providing prehospital, mobile healthcare across the country.
The South Dakota Ambulance Association is a successful and engaged group of individuals who are dedicated to assuring the success of EMS in their state. Approximately 100 participants attended the ACE workshop, with many of the providers coming from miles away that dedication is evident. Thoughtful questions and involved conversations helped for a great understanding
of the Cost Data Collection information. We were honored to be a part of this conference and thank the South Dakota Ambulance Association for inviting us!
If you're interested in hosting an ACE workshop, webinar, or conference session let us know by filling out this form.